"I write for a living but Anna and Josh's simple but profound tools for self-examination actually make me want to write more. I would trust these two with my life (and have) but now I trust them with my pen. Whether you're a journaling veteran or a newbie, The Write Method will make you surprise yourself—in a good way."
- LENA DUNHAM, creator of HBO's Girls & #1 New York Times bestselling author of Not That Kind of Girl
Anna David is a New York Times bestselling author of eight books, founder of Legacy Launch Pad Publishing and three-time TEDx speaker who has appeared on Good Morning America, Today Show, The Talk and dozens of other programs. Her first novel, Party Girl, is in development as a feature film. She's the on-air book critic for KATU Portland and hosts a hit podcast on how entrepreneurs can use a book to build their business.
Sober for over two decades, Anna coaches both writers and addicts in recovery.
Dr. Lichtman is dual board certified in adult psychiatry and addiction medicine and is trained in various modalities of psychotherapy including CBT, DBT, EMDR and Psychodynamic Psychotherapy. He is a clinical instructor at UCLA, and has been selected to be on the list for Southern California Super Doctors for 2022, 2021, 2020, 2019, 2018, 2017, 2016 and 2015
See Anna talk about The Write Method on KATU/ABC Portland
From The Write Method creator Anna David...
In working with countless students and clients over the past two decades, I've witnessed miraculous results when I've prompted them to write out answers to specific questions

.
I've seen people overcome seemingly impossible circumstances, change their entire perspective and develop entirely new careers—and better lives. I've watched some come up with business ideas and turn them into thriving enterprises and seen others go from book idea to bestselling author in under a year. Yes, journaling can turn someone without direction into an entrepreneur or author (or both!)
And so we created The Write Method program.
The Write Method consists of nine questions that encompass nine essential elements.
Helping (Finding ways to be of service)
Acknowledging (Addressing resentments)
Progressing (Setting and working toward goals)
Participating (A way you'll join that day's flow of life)
Identifying (Finding and examining your fears)
Nourishing (Taking care of yourself)
Elevating (Finding a higher consciousness through gratitude)
Surrendering (Giving up control)
Seeking (Connecting with God)
Savoring (Finding gratitude)
In other words, the acronym for HAPPINESS. Because that's what this leads to. 
For information about bringing The Write Method to your institution or school, email [email protected]
TWM is making its way around the world...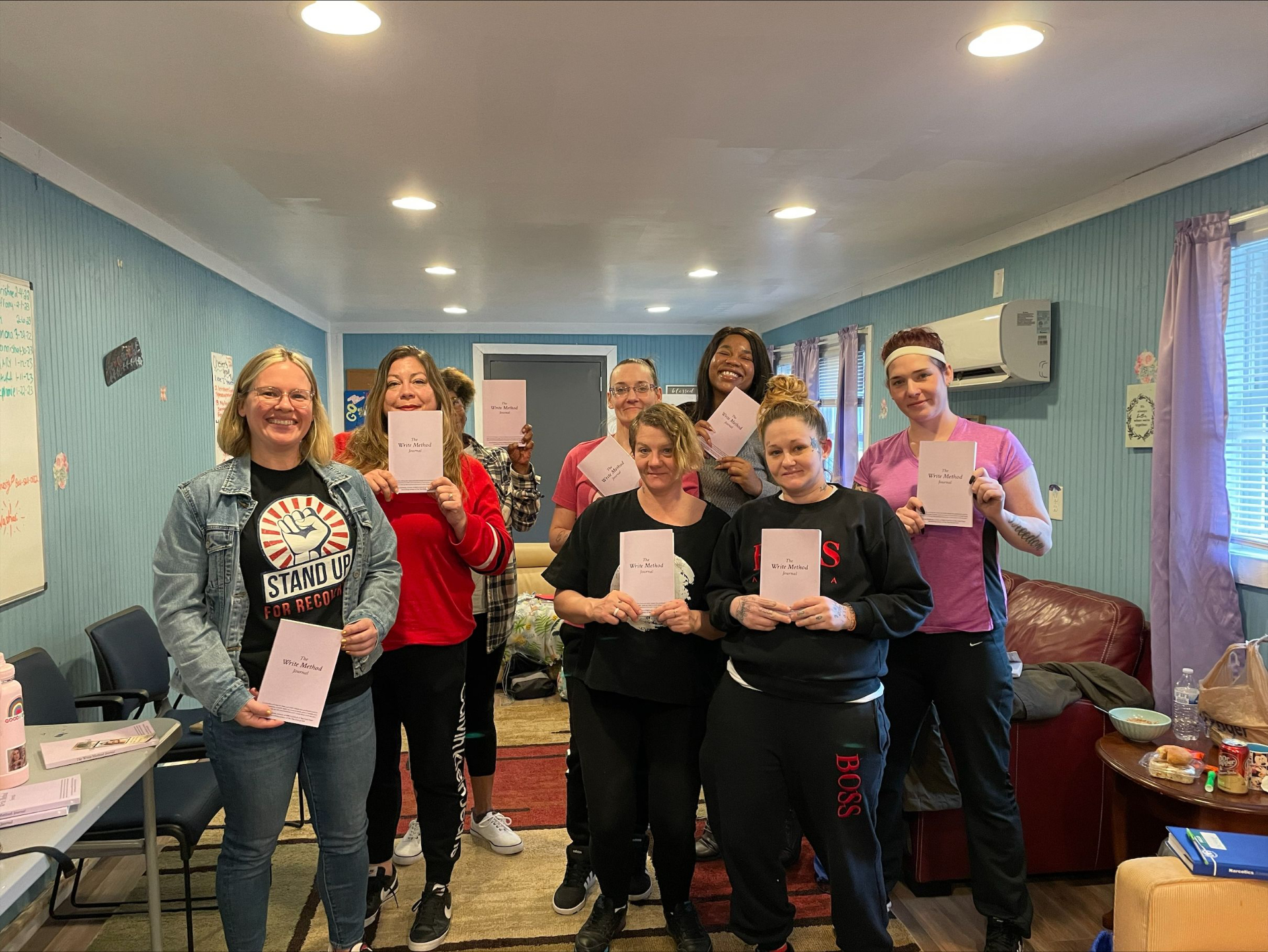 The Write Method Journal contains space for you to answer TWM questions for a month.
What do people who have followed The Write Method have to say?
Jenna Tighe
"I meditate daily but I desperately need a self-care that's more physical and there were several evenings I found myself going for a walk because I knew I had to answer the question of how did I practice self-care today! My favorite part of the process was the focus on service. It made me reflect on my day in terms of how I was of service to others, which when it comes down to it, is what truly matters (it's easy to lose sight of that fact, so these questions were very grounding and soothing)."
Allison Henry
"They say it takes 30 day to build a habit, so I decided to test it out using this 30 days journal. Turns out this is so much more than your dime a dozen gratitude journal! Not only did it help me to stay in gratitude, but it guided me to see where I can be of service to others and stay on track with my goals. Def recommend!"
Corrine Casanova
"When someone brings up journal writing and why I should do it, I always roll my eyes and smile back. It's not happening for me! But then I discovered Anna David and her strategy in this book. Simply genius! Count me in on the daily journal writing. Thank you Anna for making me do something I shied away from for over 40 years. It used to bring me so much joy, but I forgot about all that when busyness ruled my life. You've captured that joy in this book."
Nico Milazzo
"Oh my gosh! From the moment I held this book I knew it was special! Everyday I wake up and I'm excited to love the day with these questions in mind! I never even thought to be mindful of being proud of myself! Thank you to this author! She is absolutely brilliant."
Dr. Paula Cole
"This journal is a great find! If you want to get into the habit of writing every day, this journal will help. What I love most are the guiding questions. They helped me take the time to reflect and grow."
Barbara Legere
"I typically free flow my thoughts but decided to give this method a try because something was "missing" in my productivity lately. The questions cover all the bases and have me looking forward to the few minutes I spend each evening reviewing my day. Great journal!"
Ashlea Hearn
"Anna David has done it again! This isn't your average journal. With this book, Anna brings writers an incredibly useful resource to explore our minds and unleash our creativity. Writing or journaling is a powerful tool when it comes to exponential growth and in its simplistic form it can provide the reflection we never knew we needed."